Stone Applies "pracademia" with Story County Sheriff's Office
June 30, 2017
"If there is one task that Dr. Richard Stone said he has never been one to accomplish, it is to simply sit back and relax. The Iowa State University associate professor of industrial and manufacturing systems engineering said that everything he does needs to have a goal and gain knowledge for himself and others, which is why his latest endeavor required him to enter unfamiliar territory, and become a reserve deputy with the Story County Sheriff's Office…" [read more]
Story by Grayson Schmidt, Staff Writer of the Ames Tribune gschmidt@amestrib.com
Photos by Nirmalendu Majumdar of the Ames Tribune
---
ATHENA Lab Augments Human Capabilities
Fall 2016
---
Iowa State University's ATHENA Lab Helps Improve Human Engineering
June 9, 2016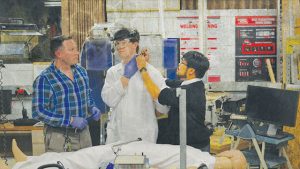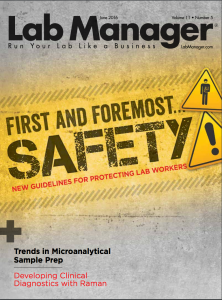 Richard Stone supervises as Tom Schnieders makes modifications to an EMG electrode connected to an eye tracker on Erik Danford-Klein.
"The work done in Iowa State University's ATEHNA Lab is all about helping people work better, but perhaps because of this main goal, it doesn't feel like work…" [read more]
Story by Rachel Muenz, Lab Manager; Photos by Tom Schnieders, The ATHENA Lab
---
An Iowa Lab Aimed at Making Humans Better
April 15, 2016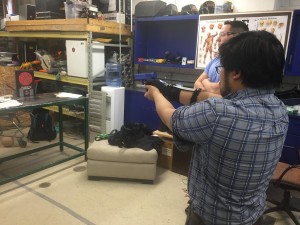 Thomas Schnieders shoots target practice with a laser gun to test a device to improve marksmanship.
"An unassuming laboratory in a basement corner room of the Black Engineering Building at Iowa State has a lofty goal: to make humans better at what they do. Researchers at the ATHENA Lab are working to improve human performance…"[read more]
Story and Photo by Rob Dillard, Iowa Public Radio
---
ISU ATHENA Lab housing research on human augmentation
April 4, 2016 11:31 PM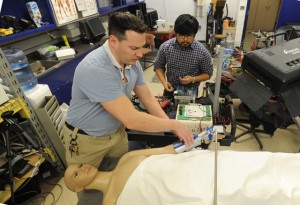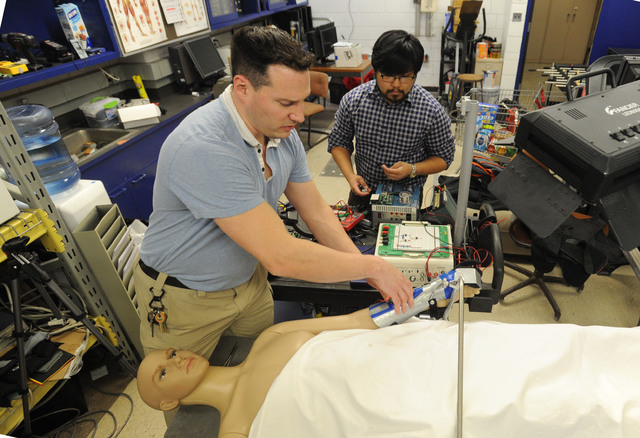 Richard Stone, left, and Thomas Schnieders, both co-founders of the ATHENA Lab in the Black Engineering building, work on human augmentation projects at the lab. 
"Nested in the lower level of the Black Engineering building on Iowa State University's campus, the Augmentation and Training of Humans with Engineering in North…" [read more]
Story by Julie Erickson, Staff Writer, Ames Tribune || jerickson@amestrib.com
Photo by Nirmalendu Majumdar/Ames Tribune
---
Ames' ATHENA Lab the first of its kind in United States
April 4, 2016
"Iowa State is now home to North America's first augmented human lab, where researchers can develop studies to make the human life easier…" [read more]
Story by Andria Homewood, Iowa State Daily || andria.homewood@iowastatedaily.com
---
Iowa State's ATHENA Lab dedicated to augmenting, understanding human performance
Mar 24, 2016 4:02 PM

Iowa State University's Richard Stone and Thomas Schnieders, left to right, are co-founders of the ATHENA Lab. The lab is all about using engineering to augment and understand human performance. 
"Iowa State's ATHENA Lab is full of sensors, tools and research equipment, including a full-sized mannequin for studies of suturing techniques. Richard Stone, Thomas Schnieders, and a team of graduate students use the engineering lab to find ways to augment human performance. That includes developing better ways to train welders, design body armor or place UPC codes on packages…" [read more]
Story by Mike Krapfl, University News Service || mkrapfl@iastate.edu
Photo by Christopher Gannon