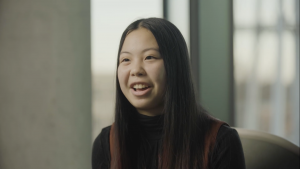 Name: Sarah Ng
Year: Junior
Major/Minor: Industrial Engineering with minors in General Business and Sustainability
Hometown: Chicago, Illinois
Hobbies: I'm currently working on starting up two businesses. One's focused on worker safety and the other aims to increase student engagement in STEM.
Clubs: Engineers Without Borders, Innovation Fellows, Student Admission Representatives (STARS)
Favorite Memory at ISU: I was on top of a 10 person pyramid during Destination Iowa State!
Advice for new students: If you're living in a residence hall, keep your door open. I met a lot of great people my first few weeks at Iowa State because people will just pop in to say hi!
Interesting fact about me: I'm going to Ghana for Engineers Without Borders over winter break.