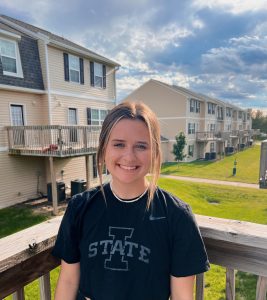 Name: Madison Bemis
Year: Sophomore
Major: Industrial Engineering
Hometown: Packwood, Iowa
Hobbies: Hiking, reading, going to the lake, and hanging out with friends!
Clubs: Institute of Industrial and Systems Engineers (IISE), Society of Women Engineers
Favorite Memory at ISU: Playing spikeball outside Friley!
Advice for new students: Work hard to achieve your goals, but take time to yourself and have the college experience because it goes by fast!
An interesting fact about me: More people lived in my college dorm hall than in my hometown! And no we did not have a gas station in my hometown either.