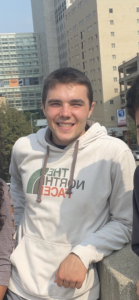 Name: Drew Thompson
Year: Senior
Major: Industrial Engineering
Hometown: Rochester, Minnesota
Hobbies: Baseball, kayaking, cooking, reading, fishing, hiking, biking, weightlifting, running
Clubs and organizations: Air Force ROTC, Rochester Roadrunners Baseball
Favorite memory at ISU: Packing everything in one night after finals so I could leave for an internship in California the next day!
Advice for new students: There is no singular path to success nor happiness. You are the only person you have to live with for your entire life, so become who you want to be, not who others think you should be.
Interesting fact about me: I tried to hike the entire Grand Canyon (rim-to-rim-to-rim) in a single night . . . and failed.