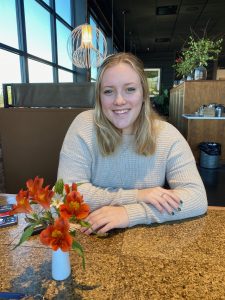 Name: Abbey Bolt
Year: Junior
Major: Industrial Engineering
Hometown: Chesterfield, Missouri
Hobbies: Swimming, playing Water Polo, hanging out with friends, and watching the Blues!
Clubs and organizations: Water Polo Club, Institute of Industrial and Systems Engineers (IISE)
Favorite memory at ISU: Traveling to Notre Dame and Mizzou with Water Polo Club and getting to stay in an Airbnb as a team
Advice for new students: Don't be afraid to put yourself out and try something new! You'll be surprised by the people you'll meet and the opportunities presented to you.
Interesting fact about me: I'm from St. Louis, so I call it Bread co. (the correct name) not Panera