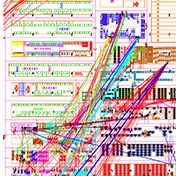 As a grad student in IMSE at Iowa State, Dr. Sly developed a method for diagramming and analyzing material flows within the AutoCAD system, and created a company around this technology.
Currently, Dr. Sly teaches Sales Engineering and Engineering Economics and continues to perform research and sales for his industrial engineering software company which is located within ISU Research Park.
Read more about Dr. Sly's research.