HFES | INFORMS | IISE | Department History
A human engineering focus at Iowa State can be traced all the way back to 1914, before the industrial engineering curriculum was even established. During 1914 and 1915, six engineering students at Iowa State College began work in a new department called "Human Engineering" as part of the "Industrial Service Work" of the college Y.M.C.A. Students in the program spent two days each week teaching English to a group of 25 to 40 "foreign laborers" at the camps of the Northwestern Railroad in Ames. Seven nationalities were represented in this group of soon-to-be American citizens. The six ISC student teachers "gained an experience in dealing with laboring men of the same stripe and stuff as are found on practically every engineering job, which will qualify them to handle industrial laborers with a clear understanding when they are out into practical work," according to the May 1915 issue of The Iowa Engineer. The classes were so worthwhile to the laborers that several of them opted to stay at the Ames work site for an extra year so they could continue their studies.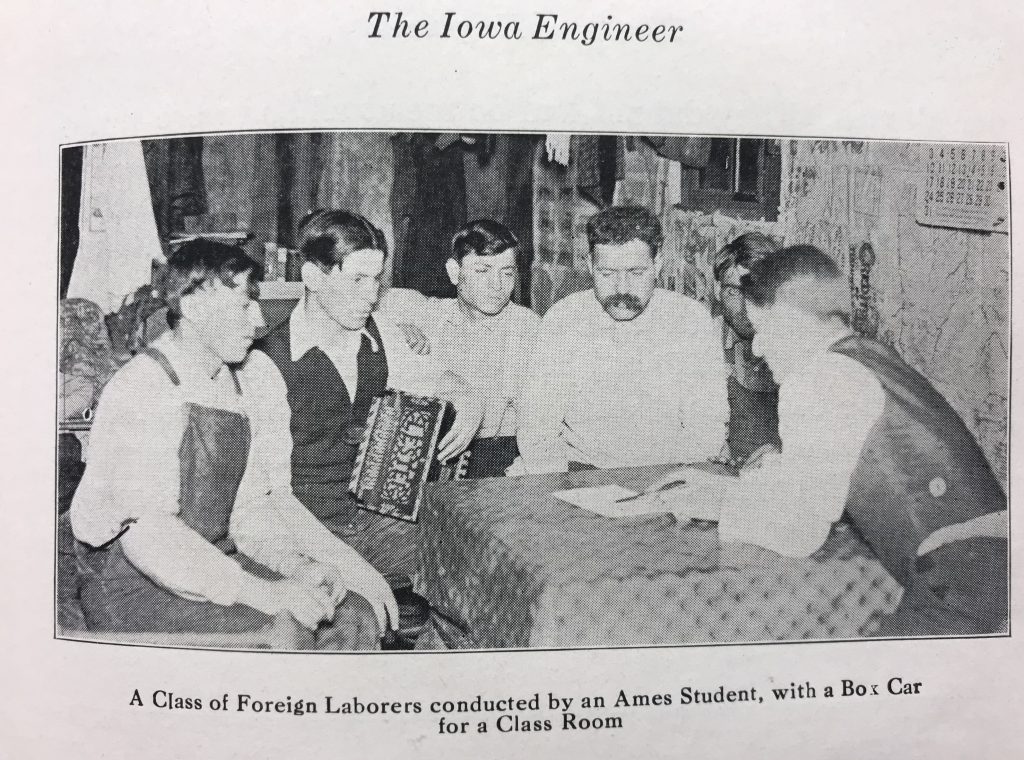 Today, Human Factors and Ergonomics is one of the four main focus areas within the Department of Industrial and Manufacturing Systems Engineering. Research in this area is led by Michael Dorneich, Stephen Gilbert, Gary Mirka and Rick Stone.
Schedule of HFE presentations by these faculty members at the 2018 HFES Annual Meeting.
Human Factors and Ergonomics Society Annual Meeting
Iowa State University, IMSE Presentations, Panels, and Posters
October 1-5
Philadelphia, PA
HFES Tuesday October 2nd Presentations
1:30pm-3:00pm
1. A. Wooldridge, A., Nguyen, T., Valdez, R. Montague E., Milner, M., Dorneich, M. & Roscoe, R. (2018) Human Factors and Ergonomics in Diversity, Inclusion and Social Justice Research. (Panel)
HFES Wednesday October 3rd Presentations
8:00am-9:30am
2. Burns, M., Manganelli, J., Wollman, D., Boring, R., Gilbert, S., Griffor, E., Lee, Y., NathanRoberts, D., & Smith-Jackson, T. (2018). Elaborating the Human Aspect of the NIST Framework for Cyber-Physical Systems. (Panel)
3. Wang, Z., Stone, R., Mumani, A., & Schnieders, T. (2018) How Packaging Characteristics Change the Perception of Product Net Weight. 10:45am-12:15pm
4. Kelly, N., & Gilbert, S. (2018). The Wearer, the Device, and its Use: Advances in Understanding the Social Acceptability of Wearables.
2:00pm-3:30pm
5. Helgerson, A., Walton, J., Loya, C., Kawell, C., Atwell, K., Monaghan, Q., Ahuja, L., Hassan, H., Gilbert, S. B., & Sharma, A. (2018). Developing an Optimized UI for Traffic Incident Managers.
HFES Thursday October 4th Presentations
8:00am-9:30am
6. Tokadli, G., Ouverson, K., Meusel, C., Garcia, A., Gilbert, S. B., & Dorneich, M. C. (2018). An Analysis of Video Games Using the Dimensions of Human-Agent Interaction.
7. Norasi, H., Koenig, J. & Mirka, G. (2018) Effect of Load Weight and Starting Height on the Variability of Trunk Kinematics.
8. Tetteh, E. & Mirka, G. (2018) Effect of Time on the Variability of Lifting Kinematics in a Repetitive Lifting Task.
10:45am-12:15pm
9. Gilbert, S., Steinberg, M., Casallas, J., Danielescu, A., & Gombolay, M. (2018). The Challenges of AI in Human Factors. (Panel)
2:00pm-3:30pm
10. Stonewall, J., Huang, W., Dorneich, M., Krejci, C., Shenk, L., & Passe, U. (2018) Energy Use and Weatherization Practices: Applications for Agent-Based Modeling to Support Vulnerable Populations.
11. Finseth, T., Barnett, N., Shirtcliff, E., Dorneich, M. & Keren, N. (2018) Stress Inducing Demands In Virtual Environments.
HFES Friday October 5th Presentations
8:30am-10:00am
12. Walton, J., Ostrander, A., Ouverson, K., Gilbert, S., Dorneich, M., Winer, E., & Sinatra, A. (2018). Feedback Design Considerations for Intelligent Team Tutoring Systems.
13. Ouverson, K., Stonewall, J., Gilbert, S., & Dorneich, M. (2018). Developing Strategic Training on Reading the Mind in the Eyes. HFES Posters
14. Schnieders, T. & Stone, R. (2018) Ranking Importance of Exoskeleton Design Aspects.
15. Stone, R., Janusz, O. & Schnieders, T. (2018) Ergonomic Analysis of Modern-Day Kitchen Knives.
16. Stone, R., Moeller, B., Schnieders, T., Mumani, A. (2018) Vastus and Patellar Protection with Range of Motion Pad – Advanced Personal Protective Equipment for the Lower Body.
17. Stone, R., Fales, C., Jose, D., Schweiger, D., Krejci, C., Wang, Z., Schweiger, D. & Hernandez, C. (2018) The Impact of Scientific Management Principles on Food Hub. HFES 2018 Leadership Posts
I. S. Gilbert: Program Chair of the CEDM (Cognitive Engineering & Decision Making) Technical Group.
II. M. Dorneich: Program Chair Elect, Cognitive Engineering and Decision Making Technical
Group.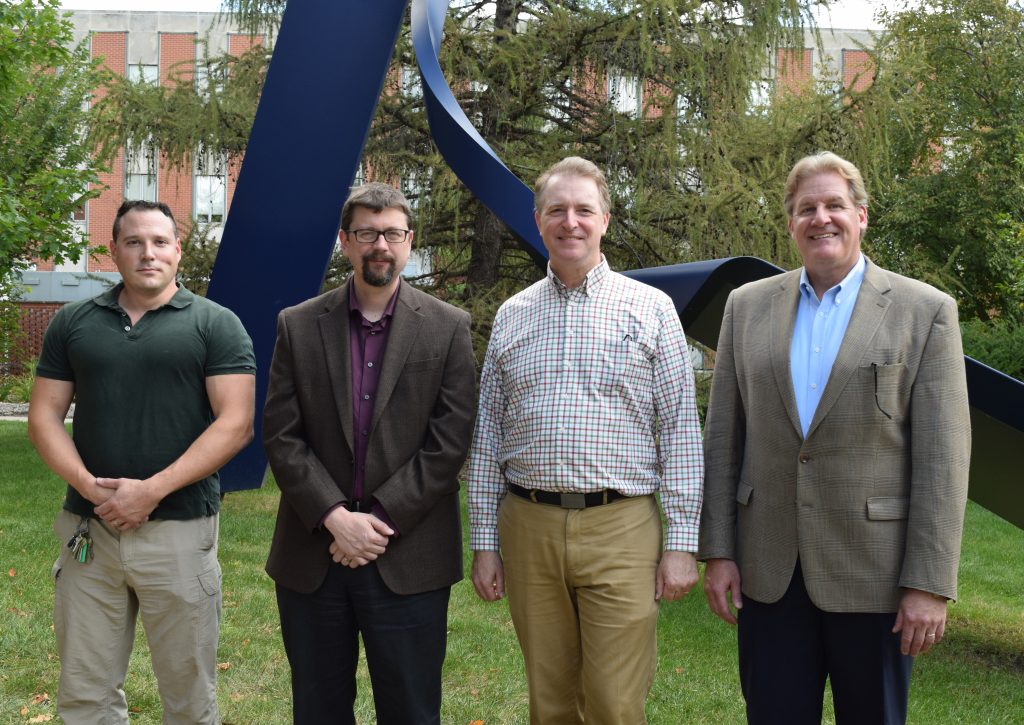 Fall Commencement – December 15, 2018 – Ames, Iowa
Industry Advisory Council (IAC) meeting/IMSE Research Symposium/IMSE Honors & Awards Luncheon – April 25-26, 2019 – Ames, Iowa
Spring Commencement – May 11, 2019 – Ames, Iowa
Help support student participation in these events
---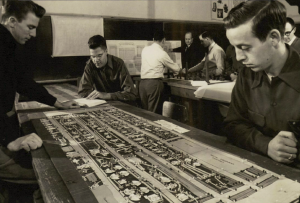 Do you have a story about your time as an IE student at Iowa State? We want to hear from you!!
Industrial engineering's core curriculum can be traced to 1919 when an industrial engineering option was offered to students studying mechanical engineering. (Courses in general engineering – as it was then called – were first initiated in 1905.) J.O Keller – a Penn State graduate and one of the first students in the country to earn an IE degree – served as director of the new program at Iowa State.
The Department of General Engineering (GE) – a predecessor to industrial engineering – was established in 1929 and was based in Marston Hall. This early curriculum consisted of classes in civil, electrical, and mechanical engineering as well as economics.
Frank Paine served as GE's first department chair from 1929 until his death in 1942. Joseph Walkup was appointed as Paine's successor and served as chair until his retirement in 1973. In 1956, the department's name was changed from General Engineering to Industrial Engineering. Between the 1960s and 1980s the curriculum included a combination of courses in engineering and management.
In 1989 IE became the Department of Industrial and Manufacturing Systems Engineering and the curriculum became to place more focus on manufacturing. The department moved to its current home in Black Engineering Building in 1999 during which time the number of laboratory facilities increased from six to 16.
As of spring 2018, IMSE consisted of 518 undergraduate students, 179 graduate students, 23 faculty members, 12 staff members, and more than 4,200 alumni.
Because the predecessor to the IE curriculum was first established in 1919, the department has opted to celebrate a mini centennial in 2019. Please consider joining us for mini centennial celebrations during these upcoming events: